Eco-Safe Retrofit specializes in handling all mandatory retrofitting required for the close of escrow. These Safety and Water Conservation ordinances are locally and state mandated during the "Point of Sale" process in order to facilitate the transaction and satisfy all the retrofitting requirements to close escrow.
The following is a list of the safety and water conservation devices required by law prior to the close of escrow.
Smoke Detectors
Carbon Monoxide Detectors
Ultra Low-Flush Toilets and Low Flow Shower Heads
Water Heater Strapping and Bracing
Automatic Seismic Gas Shut-Off Valves
Sliding Door Impact Hazard Glazing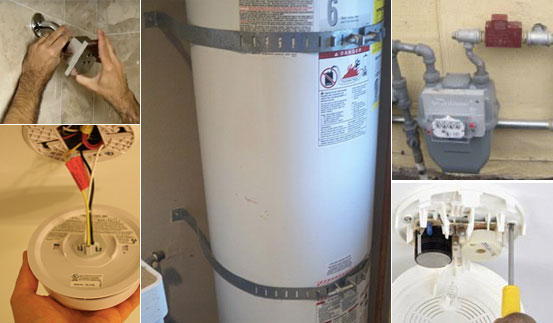 Requirements vary by city. Call us for your city's requirements.
You can trust Eco-Safe Retrofit to get your Certificate of Compliance in time to close escrow.
Schedule an inspection with one of our qualified technicians today!